The first quarter of the year always includes the required tax and other filings needed to keep our tax-exempt status.  Some of this is tedious, but obviously necessary.  We are doing well financially.  We received $11,205.15 in donations balanced by $2239.00 in expenses, that is a gain of $8966.15.
Guidestar.org is an organization that collects data on nonprofits to help donors make informed decisions.  It adds a bit of transparency about what we are doing, on what we spend our money, and our goals.  We were able to advance from Bronze to Silver and on to Gold this year. View the DSREI Guidestar Profile.

This quarter we continued working on several projects:
American College of Sexual Medicine and Health (ACSMH)
We are continuing to make ACSMH (offering sexual medicine education and training courses for healthcare professionals) a reality.  Stay tuned for further news.  Landi Cranstoun, MD (our Executive Director) and I are still working on an academic paper concerning the policy of some medical boards to ask about a history of paraphilias as part of the licensure process.  Our new ACSMH lapel pin has run into some production problems, but we are working it out.  We are also beginning to create content for the organization.
Kink Guidelines Group
The Kink Guidelines group has finished a final draft of the guidelines. We are turning our attention to writing an academic paper to give these guidelines even more exposure.
The New Normal
SARS-CoV-2 (severe acute respiratory syndrome coronavirus 2) is a new novel virus which causes COVID-19 the disease and has led the world to shelter in place.  I expect in 9 months we are going to see a baby boom, more distressed relationships, and maybe more exploration of diverse sexualities.  To protect patients, my staff, and my colleagues we closed the office and I am trying to figure out telemedicine.  What does this have to do with diverse sexualities?  Google Pornhub, then "coronavirus porn" and check out a "new" genre of porn.  Actually, it resembles a cross between latex/rubber fetish and medical porn.   If we are ever visited by aliens, I wonder how long it will take for alien porn to appear.  This is what I think about when I should be writing this newsletter.
In San Francisco, all the barbers are closed due to the pandemic. I could not stand it any longer, so I shaved (actually buzz cut) my hair.  Here is a picture, do not laugh or cry, it will grow back.  I know I look tired; I was.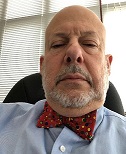 For good news, Peggy J. Kleinplatz, PhD, (a member of DSREI's Education Advisory Committee) just had a new book published Magnificent Sex: Lessons from Extraordinary Lovers.   The book will be available on Amazon.  And essentially simultaneously, an academic journal article she co-authored based on the same material on how to help patients clinically was published.  View the article. She deserves the accolades.
Unfortunately, there is also some other news, not so encouraging, concerning my practice.  View the letter that I am sending to my patients.  I plan to continue leading DSREI, no matter what I do.  I am not sad; I know I will reinvent myself again.
Be safe and take care of yourself,
Charles Moser, PhD, MD
President
Diverse Sexualities Research and Education Institute