It has been another busy quarter, I know I say that every quarter. Time does fly when you are having fun.   So this is what we have been doing.
American College of Sexual Medicine and Health
The formation of the American College of Sexual Medicine and Health (ACSMH) is progressing.  ACSMH is a project of the DSREI and will be offering sexual medicine education and training courses for healthcare professionals.  ACSMH will be collaborating with our sister/brother/sibling organization, The Alternative Sexualities Health Research Alliance (TASHRA), to make this happen.
ACSMH is dedicated to raising the awareness of sexual medicine and health as an essential component of all healthcare. We plan on creating a series of courses leading to certificates in Sexual Health.  We emphasize that we will not be certifying people, only courses, programs, and attendance at these courses.
A draft of the new ACSMH logo is below, this is not the final version, so please send us feedback.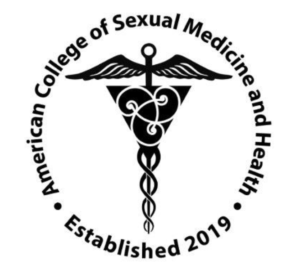 Kinky Guidelines Group
DSREI continues to work with the Kinky Guidelines group, we are presenting to major psychotherapy and sexology groups, and soon will be submitting the paper to an academic journal.   This is an important groundbreaking project.
Diverse Sexualities Month
December is Diverse Sexualities Month, how are you planning to celebrate?  Please let us know, prizes for the best ideas can be awarded.  December is also the end of our fiscal year.  I hope you will consider donating to DSREI.  We have done quite well on our limited budget but there is lots more we want to do.  In case anyone is concerned, the donations only pay for DSREI's expenses.  Everyone associated with DSREI is a volunteer.  If anyone knows of a real fundraiser (professional or not) who wants to help, I will personally arrange for the heavens to open and the angels to sing your praises.
Turkey Conference
DSREI is sponsoring the 2nd International Anatolian Congress on Neuroscience and Sexual Health in Istanbul Turkey, November 16th and 17th, 2019.  It is a long way to go, especially with Turkey's incursion into Syria occurring as I write this.  Everyone, well most everyone, is assuring me that it is safe.  It will be a cutting edge conference and there is such a great hunger for information about sex and diverse sexualities.  The conference will be in English and interpreters will be available
Going back into Private Practice
I am settling in to my new office and everything and everyone has been welcoming and great.  There have been a few bumps in the road, not unexpected, but I am excited about this new chapter in my professional career.
They said it could not be done, but I am going back to paper charts.  I am just using the computer for online prescriptions and research.  Most physicians hate their EHR, but are afraid to give it up.  Wish me luck.
My new contact information is:
Charles Moser, PhD, MD
1199 Bush Street, Suite 400
San Francisco, CA 94109
415-921-8210 (office)
415-921-0387 (fax)
My website is https://docx2.com
Hopefully, next quarter's email will be on time. I know I say that every quarter.  If someone wants to be the Newsletter editor, I will happily (and quickly) move aside.